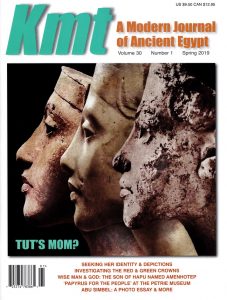 K

MT a modern Journal of ancient Egypt
Kmt is the premier English-language periodical devoted exclusively to articles on the 3,000 year history, fascinating culture, intriguing personalities and awesome art & architecture of ancient Egypt — including features on the pioneers of Egyptology & their amazing discoveries, plus coverage of modern archaeological exploration and conservation up & down the Nile. If you are a true ancientegyptamaniac then you'll truly enjoy every quarterly issue of Kmt! Each magazine-size issue is 88 pages on glossy stock, with 6-8 main features & scores of archival & brand new photos in full color, plus maps, plans & dynamic graphics
Subscription rates: Canada–one year US $45 two years US $85Other foreign–one year US $47 two years US $89
www.kmtjournal.com


ANCIENT EGYPT the history people and culture of the Nile Valley
Ancient Egypt is a magazine researched and written by experts in the field of Egyptology. Its lively and informed style appeals to the many thousands of ordinary people fascinated by this early civilisation, and provides them with the latest news on their interest.
Subscription rates: United Kingdom 6 Issues £25  12 issues £46      Europe 6 issues £29.50 12 issues £55 12 issues  Overseas (airmail) 6 issues £39 12 issues £74
Note: Price of subscriptions may change with inflation so please check websites for uptodate information.
http://www.ancientegyptmagazine.com
Copyright © all rights reserved ancientegyptamania.com  2011